CIC Special Events
Organised with passion and coming to life with your participation.
We work with excitement towards an inclusive community where every person has friends away from home. We love what we do and we are proud to share our passion with you. Such a vibrant and diverse community needs to be celebrated over an over again and our CIC Special Events are just the perfect environment to do that.
Language Brunch
Welcome to the Language Brunch, a delightful event created especially for the internationals who live in Carinthia! Join us for a unique and enriching experience that combines language learning with the joy of food and cultural exchange.
Not only will you have the chance to practice your language skills, but you'll also get to savor a delectable spread of international cuisines. From traditional dishes to exotic flavors, the Language Brunch offers a tantalizing array of culinary delights. Explore the diverse tastes and aromas while discovering the rich cultural heritage of different countries.
In addition to the language and gastronomic experience, the Language Brunch also offers a special program: live music, handicrafts, reading for kids and others. The Language Brunch is more than just an event; it's a celebration of diversity, unity, and the power of language to connect people. So, come join us and embark on a linguistic and culinary adventure that will leave you inspired and enriched. Let's build bridges of understanding and create lifelong connections in the vibrant Carinthia International Center :)
Datum: On Saturday, 23rd of September
Time: 11.00 - 14.00
Location: KELAG-Schau-Kraftwerk Forstsee, Saag 15, 9220 Techelsberg am Wörthersee
Registration: HERE . Bring your passion for languages with you!
Villach Cyclists' Day
Get ready to experience a thrilling and adventurous day dedicated to all cycling enthusiasts. Held annually in the picturesque city of Villach, Austria, this event celebrates the joy of cycling and promotes a healthy and sustainable lifestyle. Villach Cyclists' Day is a perfect opportunity for cyclists of all ages and skill levels to come together and enjoy a day filled with exciting activities. From beginners to seasoned riders, everyone can find something to suit their preferences.
Immerse yourself in the stunning landscapes of Villach as you pedal through charming trails, picturesque countryside, and beautiful lakeside paths. Feel the adrenaline rush as you participate in the competitive races, challenging yourself against fellow cyclists. Or simply enjoy a leisurely ride with your family, taking in the breathtaking views and creating lasting memories. Villach Cyclists' Day is not only about cycling; it's a celebration of a sustainable and eco-friendly lifestyle.Engage with like-minded individuals, share experiences, and contribute to the ever-growing cycling community.
Whether you're a cycling enthusiast, a nature lover, or simply seeking a fun-filled day out, Villach Cyclists' Day has something for everyone. Let's come together and embrace the freedom and joy that cycling brings!
Learn more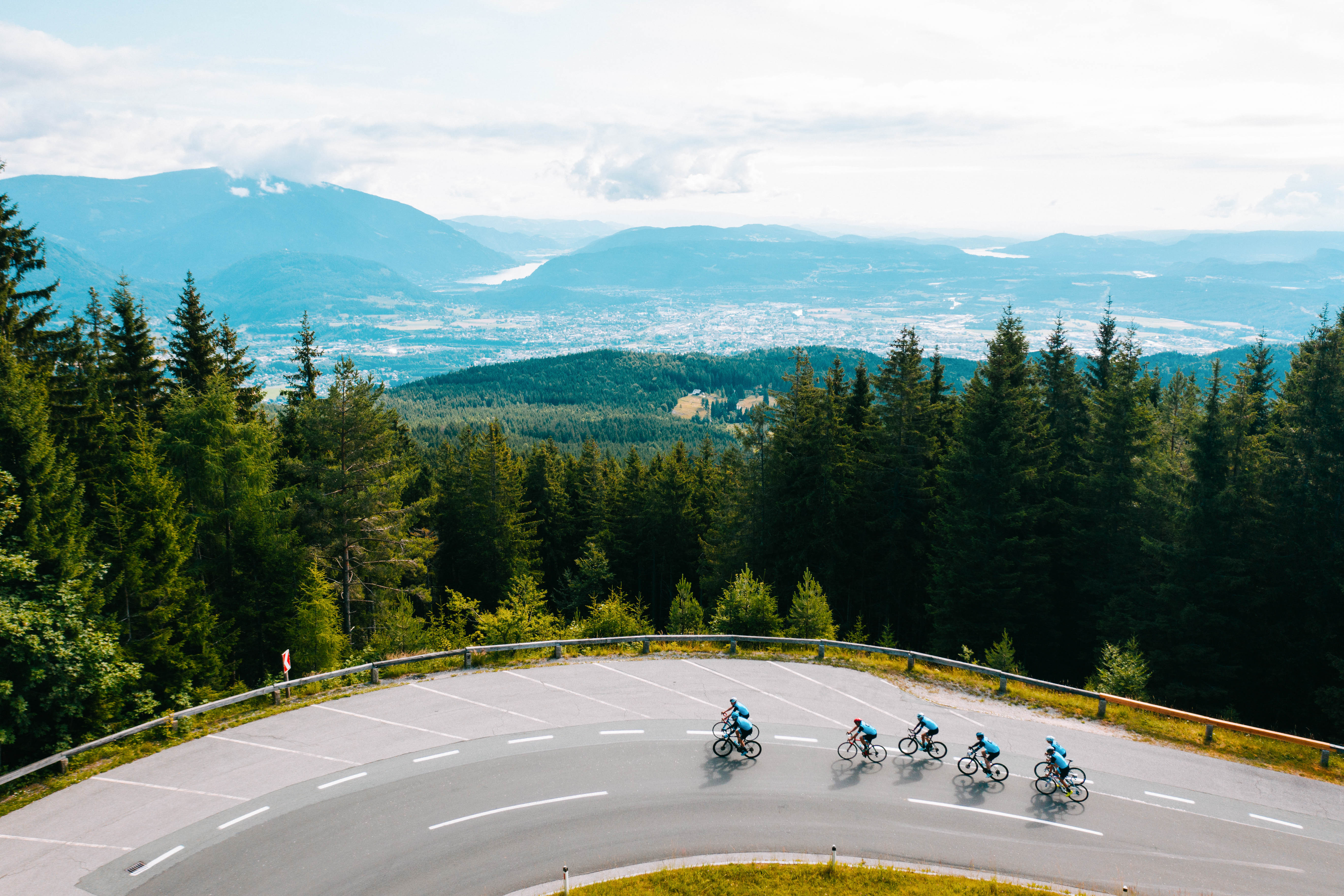 Full Moon Snowshoe Tour
Prepare to embark on a magical adventure under the shimmering moonlight, surrounded by the breathtaking beauty of the Dobratsch mountain in Austria.
The Full Moon Snowshoe Tour is a truly unique experience that combines the tranquility of a winter night with the thrill of snowshoeing. This guided tour takes place during the full moon, when the mountain landscape is bathed in an ethereal glow, creating a surreal atmosphere.
As you don your snowshoes and set off on this enchanting journey, you'll be captivated by the serene surroundings and the crisp mountain air. The soft crunch of snow beneath your feet and the glistening snow-covered trees will transport you to a winter wonderland like no other.
Led by experienced guides, the tour will take you through pristine trails, where you'll have the opportunity to explore the untouched beauty of Dobratsch. With each step, you'll feel a sense of connection with nature and a deep appreciation for the majesty of the mountains.
The Full Moon Snowshoe Tour on Dobratsch offers a truly unforgettable experience, where nature, adventure, and tranquility blend together seamlessly. Join us and immerse yourself in the magic of a winter night, as the moon guides your path and the mountain embraces you with its timeless beauty.
Dragonboat Cup
This event on Lake Ossiach offers all water sports enthusiasts the opportunity to get to know rowing and paddling in an informal atmosphere. Since 2011 the CIC has taken part in the Dragonboat Cup on the Ossiacher See with its own paddling team. Visitors are very welcome at the tournament! Day event, food and drinks are available the whole day.
A Dragonboat Cup team consists of 20 members, with one person operating the rudder and one person beating the drum to the beat. The total of 18 paddlers in the engine room try to keep time. At least 6 of them are ladies. The more successful they are, the higher their team name will be in the results.
The participants have the opportunity to learn the technique and awaken the team spirit, which is the decisive factor in these sports, in evening training sessions in the 4 weeks before the event.
The event will be framed by our traditional summer party with music, food and drink. In the evening, after the award ceremony, the After Race Party with live music will begin as always.
Colorful Kirchtag
The Villacher Kirchtag is a traditional festival that takes place annually in Villach, Austria, typically in the last week of July. The festival is one of the largest folk festivals in Austria and attracts hundreds of thousands of visitors each year. People wear traditional costumes, dance and take part in the parade, while the whole city is closed off and turns into a huge amusement park.
Colorful Kirchtag is CIC Summerhighlight 😋
We invite you for some light refreshments, snacks and nice exchange at our office. You can relax and enjoy the company of like-minded individuals. This is a great opportunity to meet new people, make some connections, and have experiences. Besides the traditional Kirchtag beverages, there will also be a selection of international snacks and drinks. #Colorful Kirchtag does not have an official dress code, feel free to wear traditional costume from your country.